We're almost a month away from Christmas and, since I haven't done a thing to pre­pare, I'm start­ing to panic a bit. Every year I tell myself I'm going to start fig­ur­ing out gifts and cards ahead of time, but it never hap­pens. So right now I'm check­ing out hol­i­day cards, and I'm par­tic­u­larly lov­ing Egg Press's off­set col­lec­tion. I love hol­i­day cards that aren't the typ­i­cal red, green and white. And while these designs incor­po­rate those col­ors, they also throw in some unex­pected com­ple­ments, mak­ing each design unique and unex­pected, yet still festive.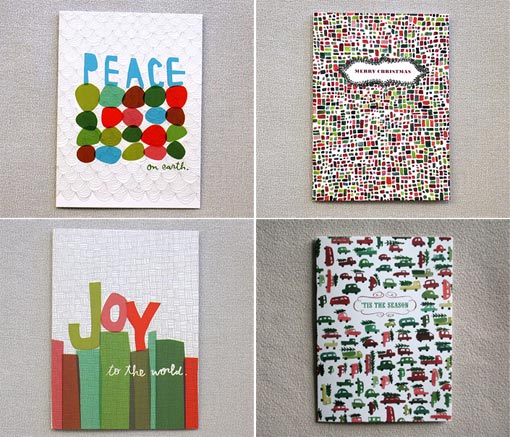 Egg press is also cur­rently hav­ing an online sam­ple sale, where you can pick up a set of 10 mis­cel­la­neous cards for $10. They will be avail­able through the 25th, or until sup­plies last, right here.
I love paper goods that have an extra some­thing to them, whether it's just a unique print­ing process or a really fun idea. So I'm also really lik­ing these scratch and sniff cards by Melangerie NYC. Each pack of 6 cards includes two of each scent: sweet and minty candy canes, gin­ger­bread fresh from the oven and pine nee­dles and win­ter snow.