I went to Max Brenner for the first time the other night; and in addi­tion to hav­ing an amaz­ing dessert, I really took notice their brand. I espe­cially love the warm choco­latey color palette.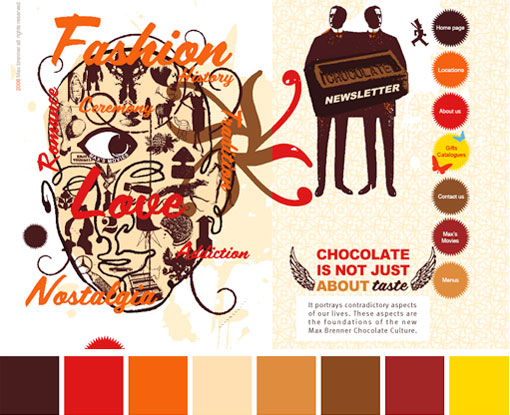 The HOW Design Conference is headed to Austin June 24 – 27; here's some infor­ma­tion about the con­fer­ence that might be of inter­est to your read­ers. We appre­ci­ate you pass­ing any of it along.
HOWconference​.com updated with more event info
Just this week, we retooled the HOWconference​.com home­page to help design­ers make the most of their con­fer­ence expe­ri­ence, with updates on extra activ­i­ties like work­shops and the pop­u­lar Austin Studio Tours, addi­tional ammu­ni­tion for con­vinc­ing their man­agers to send them to HOW and info on how they can build their own cus­tom con­fer­ence program.
Create your own con­fer­ence
With about 50 ses­sions (not to men­tion work­shops and evening activ­i­ties) to choose from, design­ers have lamented in the past that they have a hard time select­ing ses­sions when they reg­is­ter. So we're offer­ing new tools to help them cus­tomize their own con­fer­ence expe­ri­ence and pick the pre­sen­ta­tions of most inter­est to them. We've high­lighted ses­sions tar­geted specif­i­cally toward agency design­ers, free­lancers, web/interactive design­ers, in-house cre­atives and stu­dio own­ers. Learn more at http://​www​.how​con​fer​ence​.com
New: sur­vive & thrive panel
The econ­omy is on everyone's mind— and the biggest issue is uncer­tainty. When will we rebound? What hap­pens next? We've asked a panel of design indus­try folks to address these very ques­tions at a brand-new spe­cial ses­sion in Austin from 8:00 a.m. to 9:00 a.m. on Friday, June 26. Jeni Herberger, Jeff Fisher, Steve Gordon, Jr., Daniel Schutzsmith, Andy Epstein and Megan Slabinski together cover every aspect of the indus­try, from in-house to agency to free­lance. They'll talk about what other design­ers are see­ing and expe­ri­enc­ing and then look at where the design indus­try is headed. The rest of the ses­sion will be devoted to Q&A.
Early reg­is­tra­tion dead­line this week
Speaking of eco­nom­i­cal: Designers can save $100 off the con­fer­ence reg­is­tra­tion if they sign up by mid­night on Friday, May 1. They can reg­is­ter online at http://​www​.how​con​fer​ence​.com/​r​e​g​i​s​ter