A cou­ple of months ago I was asked to par­tic­i­pate in a book redesign arti­cle for the new Uppercase Magazine, and my printed copy has finally arrived! The mag­a­zine itself is gor­geous, and packed with cre­ative con­tent. And I have to admit, it's pretty excit­ing to see some­thing I cre­ated in print.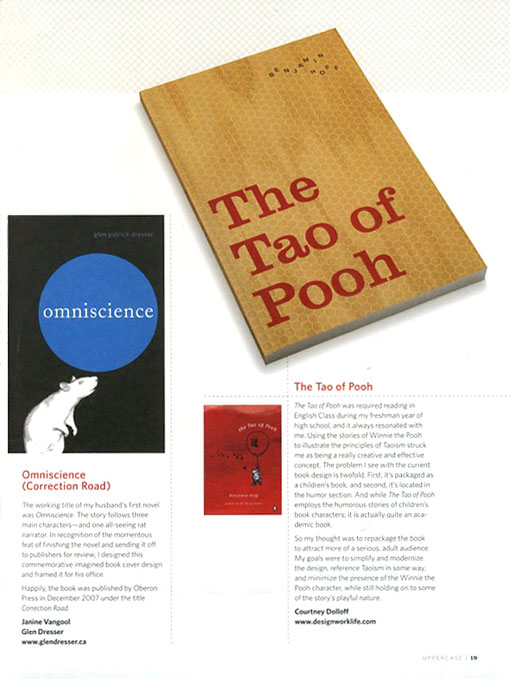 A larger view: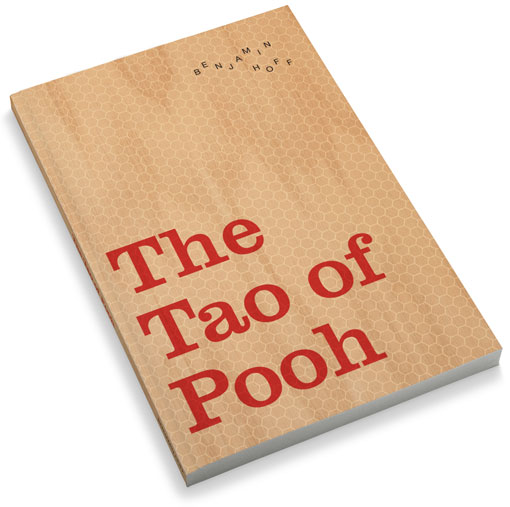 And in case you don't have a copy in front of you (which you should, the sub­scrip­tion com­pletely worth it), here is the writ­ten descrip­tion:

The Tao of Pooh was required read­ing in English Class dur­ing my fresh­man year of high school, and it always res­onated with me. Using the sto­ries of Winnie the Pooh to illus­trate the prin­ci­ples of Taoism struck me as being a really cre­ative and effec­tive concept.The prob­lem I see with the cur­rent book design is twofold. First, it's pack­aged as a children's book, and sec­ond, it's located in the humor sec­tion. And while The Tao of Pooh employs the humor­ous sto­ries of children's book char­ac­ters; it is actu­ally quite an aca­d­e­mic book.
So my thought was to repack­age the book to attract more of a seri­ous, adult audi­ence. My goals were to sim­plify and mod­ern­ize the design, ref­er­ence Taoism in some way, and min­i­mize the pres­ence of the Winnie the Pooh char­ac­ter, while still hold­ing on to some of the story's play­ful nature.