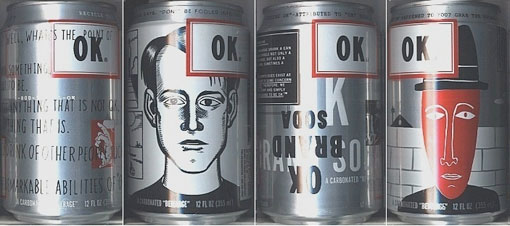 Image from boston​.com
A friend sent me a link to this arti­cle on dis­con­tin­ued sodas this morn­ing, where I dis­cov­ered the incred­i­bly cool pack­ag­ing of short-lived OK Soda. Seeing some­thing like this, that exem­pli­fies how smart and well-designed food/beverage pack­ag­ing can be, makes me even more depressed about the new Pepsi designs.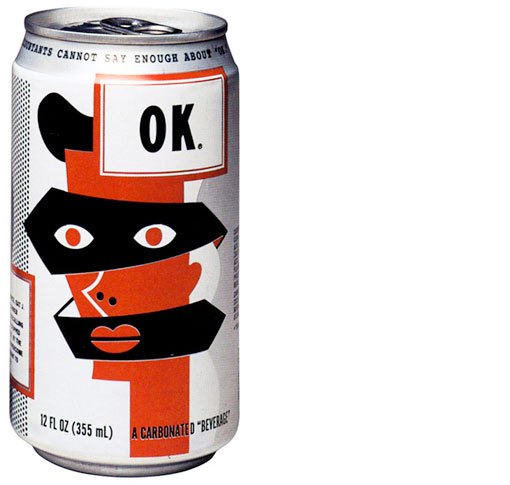 Image from pop​sop​.ru
And even their man­i­festo is fun:
What's the point ok

OK

? Well, what's the point of anything?

OK

Soda emphat­i­cally rejects any­thing that is not

OK

, and fully sup­ports any­thing that is.
The bet­ter you under­stand some­thing, the more

OK

it turns out to be.

OK

Soda says, "Don't be fooled into think­ing there has to be a rea­son for everything."

OK

Soda reveals the sur­pris­ing truth about peo­ple and situations.

OK

Soda does not sub­scribe to any reli­gion, or endorse any polit­i­cal party, or do any­thing other than feel 

OK

.
There is no real secret to feel­ing 

OK

.

OK

Soda may be the pre­ferred drink of other peo­ple such as yourself.
Never under­es­ti­mate the remark­able abil­i­ties of "

OK

" brand soda.
Please wake up every morn­ing know­ing that things are going to be 

OK

."
Thanks Claudia!