Update: Hello Heath owner Jay Parkinson com­mented to let me know that the cur­rent adver­tise­ments were actu­ally the result of a col­lab­o­ra­tion between design firm Ghava, copy­writer Alena Cason and him­self. Thanks Jay!
The inno­va­tors over at the Barbarian Group are respon­si­ble for this excel­lent site and mar­ket­ing cam­paign for Hello Health, a Brooklyn-based health­care ser­vice. The idea behind Hello Health is intrigu­ing — pro­vide patients with in-home care, com­mu­ni­cate through mod­ern chan­nels (email, text mes­sag­ing, instant mes­sag­ing etc.), and accept pay­ments based on a monthly sub­scrip­tion sys­tem. So the design­ers had a great idea to work with, and it shows.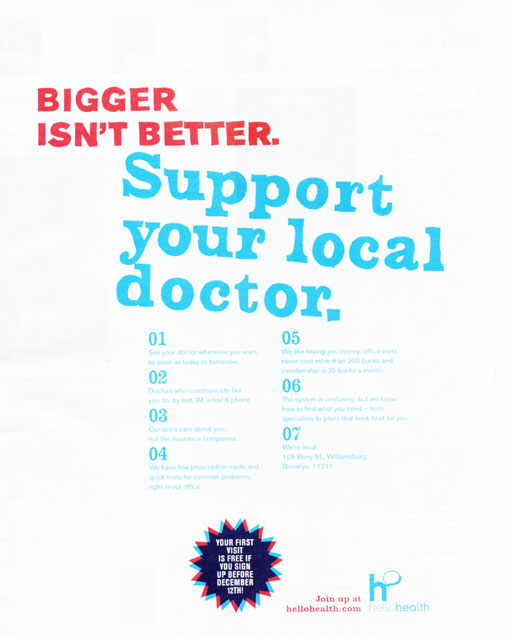 Ad seen in Time Out New York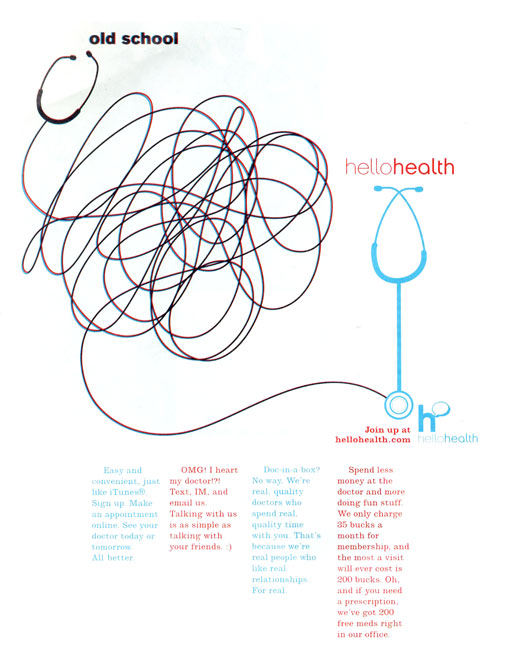 Ad seen in Time Out New York
Also don't miss this bar­bar­ian blog post to read more about the company's inter­ac­tive sub­way advertising.