I don't have any pets, but when I heard from Becky at Denhaus I had to post about these super styl­ish dog houses. They're designed to blend in with your décor while still being a com­fort­able rest­ing spot for your pet.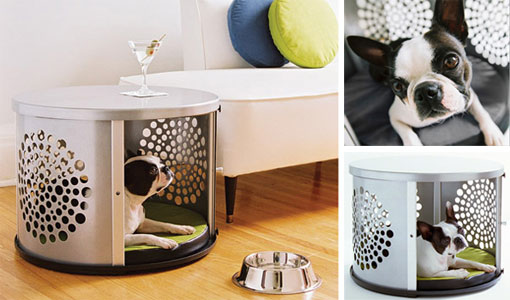 According to Becky: These orig­i­nal designs, cre­ated by CEO and Lead Designer, Sarah Pierce, were inspired by Sarah's spir­ited Redbone Coonhound, Amber. She started by design­ing a space for Amber that would give her a com­fort­able and safe room (like a dog house) in such a way that would fit with their home's décor (like a nice piece of fur­ni­ture). The TownHaus was born, fea­tur­ing solid wood and clas­sic, crafts­man style. The ZenHaus fol­lowed, inte­grat­ing a sleek, oval design in four mod­ern col­ors — a tes­ta­ment to Sarah's keen eye for cut­ting edge design.

And how can you not love that logo? So fun.