GOOD Magazine released the sec­ond GOOD Sheet — Bill of Health — yes­ter­day. Again, click on the image below to see the full size ver­sion. (By the way I finally found last week's sheet in my local Starbucks today, so I think they're run­ning a lit­tle behind sched­ule in some stores.)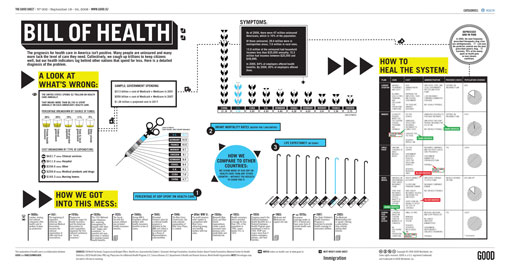 Also, a new series — GOOD Conversations — will be debut­ing in New York on September 23rd, and con­tin­u­ing bimonthly in both New York and Los Angeles. The inau­gural topic, Mavericks of Education, will fea­ture a dis­cus­sion with sev­eral influ­en­tial pan­elists. Click here for more details.
And on a third note, check out this orig­i­nal video by Max Joseph and Chris Weller. "Choose Your Vice" breaks down some of the facts about both Vice Presidential can­di­dates in a visu­ally inter­est­ing way.