I've been a sub­scriber of GOOD Magazine since it started. In case you're not aware, it's a pub­li­ca­tion "for peo­ple who give a damn" whose sub­scrip­tion price goes entirely to the char­ity of your choice. (It used to be a $20 cost, but now you can con­tribute any­where between $1 and $1000 when you sign up.) And aside from the ben­e­fit of their phil­an­thropic, globally-aware posi­tion, the mag­a­zine is chcok full of great con­tent and beau­ti­fully designed by design stu­dio OPEN, here in New York.
I was pleased to find out yes­ter­day that they have been mak­ing all kinds of changes over at GOOD. In addi­tion to the sub­scrip­tion price adjust­ment, they have launched a brand new web­site, which is amaz­ing — a clean, mod­ern design and easily-understood inter­face. They man­aged to pack a ton of great infor­ma­tion in the space with­out sac­ri­fic­ing usabil­ity. GOOD also began sev­eral ini­tia­tives to help them get the word out, one being The Good Sheet.
The Good Sheet — a "free fold-out sheet is full of digestible infor­ma­tion — sta­tis­tics, time­lines, facts — on a host of hot top­ics, from edu­ca­tion and voter turnout to gas prices and the envi­ron­ment" — began appear­ing in Starbucks through­out the coun­try yes­ter­day. I didn't see any avail­able when I made my usual Starbucks run yes­ter­day morn­ing, but I'll be sure to check it out today. GOOD always cre­ates extremely infor­ma­tive, cre­ative and well-designed info­graph­ics in their pub­li­ca­tion and I'm sure this will be no dif­fer­ent. The ini­tia­tive will last for 11 weeks, with a new sheet dis­trib­uted each week, and you can also get them online right here. See the first one below (click on the image for the a larger view).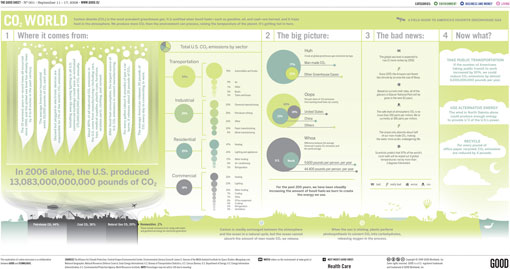 Here are a cou­ple of other exam­ples from their monthly Transparency section.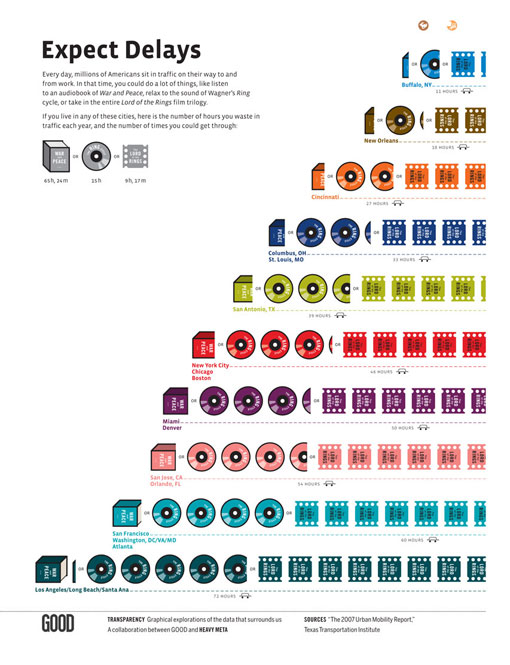 An info­graphic show­ing how much time is wasted in traf­fic each year, and how many times you could get through War and Peace, Wagner's Ring cycle, or the entire Lord of the Rings trilogy.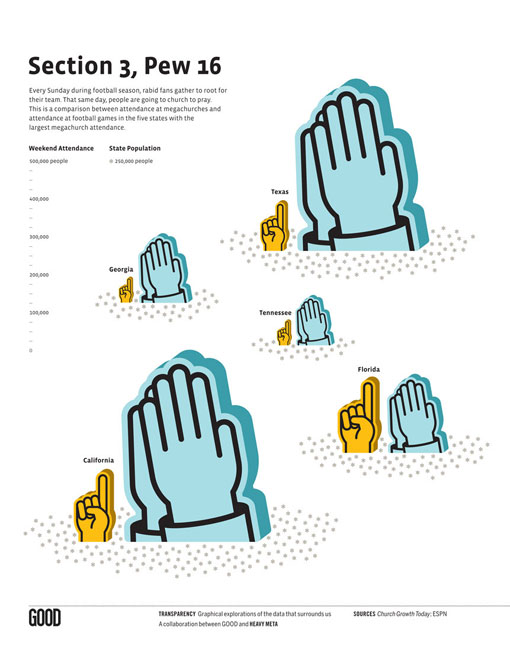 An info­graphic com­par­ing atten­dance at megachurches vs. foot­ball games in the 5 states with the largest megachurch attendance