Lately I've seen quite a few posts about 2009 cal­en­dar options. And although I mostly feel it's a lit­tle bit early, I can't help but be excited. I nor­mally buy sev­eral each year, usu­ally because I have an extremely dif­fi­cult time mak­ing a deci­sion. For 2008 I pur­chased one from Black Pearl Press (which I can't seem to find a link to at the moment), the Noa Bembibre wall cal­en­dar (2006 ver­sion shown), and a third from Manifesto Letterpress.
This year I'm hav­ing a hard time restrain­ing myself from pur­chas­ing any­thing just yet, because I know more and more will be released as we get closer to the hol­i­days. But here are a few on my list so far:
I just came across the work of this designer via Paper Crave and I love every­thing about it. Her etsy shop is full of won­der­ful paper goods — espe­cially this 2009 Sea Calendar—and I now have another awe­some blog to add to my list!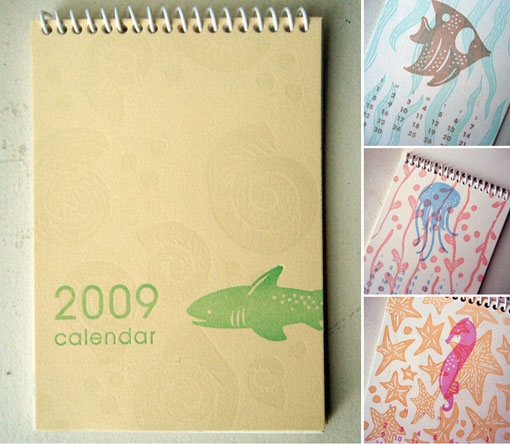 This well-known sta­tioner recently relaunched their site, as most of you prob­a­bly already know. From the looks of the images, they will have 3 dif­fer­ent ver­sions avail­able, which is excit­ing (and also hor­ri­ble for my wal­let, because I'll prob­a­bly want one of each). I haven't been able to find too much other infor­ma­tion, but I did notice you can cur­rently pur­chase one of the cal­en­dar designs right here.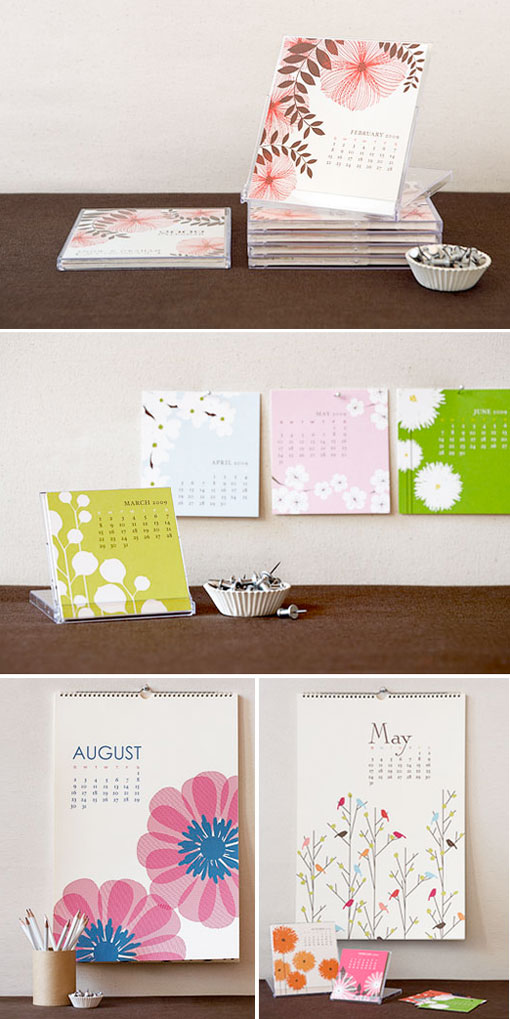 I always love what­ever Egg Press does, and this year they've pro­duced a let­ter­press cal­en­dar as well as an off­set ver­sion. And although I'm usu­ally innately drawn to let­ter­press, I am def­i­nitely grav­i­tat­ing towards the off­set ver­sion. The col­ors and pat­terns and designs we just more "me".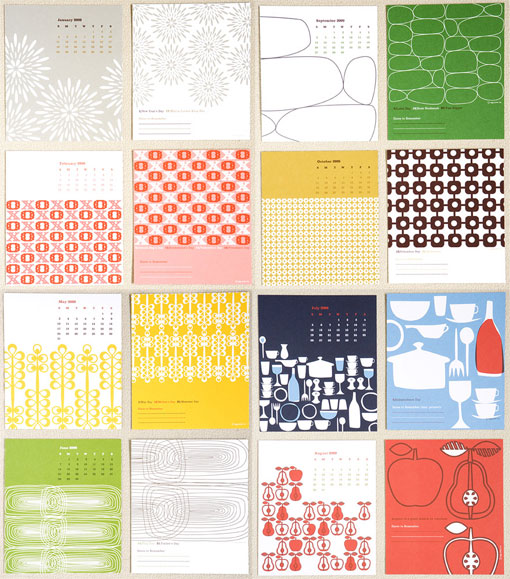 I'm also very much look­ing for­ward to Studio on Fire's 2009 Calendar — I have one from a cou­ple of years ago. Each year they chose a few col­ors and a theme, and work with dif­fer­ent artists to cre­ate each month's design. See the 2008 ver­sion right here.