I'm one of those peo­ple who always loved school — if I ever win the lot­tery, I'm becom­ing a pro­fes­sional stu­dent. So I'm always really inter­ested to see what the design­ers in SVA's Designer as Author pro­gram are up to. Enrolling in a grad­u­ate design pro­gram is some­thing I would love to do some day, if I could ever fig­ure out how to take a two-year break from work­ing (wish­ful think­ing, I know).
So I was excited to see that the class of 2009 has a new project on dis­play online—Model Citizen—which was cre­ated for Kevin O'Callaghan's 3D design course. According to the site, O'Callaghan had his class "cre­ate fash­ion col­lec­tions that would be func­tional and metaphor­i­cal, as well as polem­i­cal." The project is "a run­way show cum exhi­bi­tion that addresses through clothes and acces­sories the crit­i­cal issues fac­ing cit­i­zens everywhere."
You can see each student's final prod­uct, which are all really inter­est­ing, on the site. But here are a cou­ple of my favorites.
Kristina Critchlow, dis.clothes.ure
"What if it was easy to get up close and really see what makes politi­cians tick? The dis•clothes•ure line of fab­rics intends to show the harsh real­i­ties of some polit­i­cal poli­cies and actions includ­ing sex, bribery, tor­ture, health care, and war when the viewer takes a closer look at their every­day attire."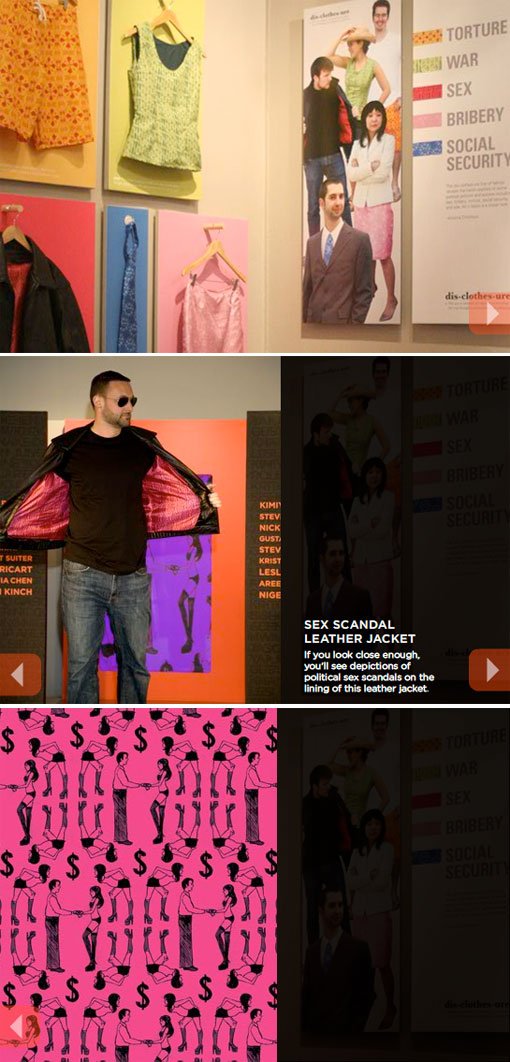 Kimiyo Nakatsui, Women on Top
"Women on Top addresses the lack of female rep­re­sen­ta­tion in U.S. and inter­na­tional pol­i­tics. Each apron, an arti­fact of tra­di­tional female roles, rep­re­sents a 'cam­paign' in sup­port of female lead­er­ship. By main­tain­ing a dis­tinctly fem­i­nine sen­si­bil­ity, they argue that women can have it all — brains, brawn and beauty."