Back when I worked at Boxcar, I used to make the plates for Studio on Fire, a Minneapolis-based let­ter­press shop. I really liked their work, so over the years I've kept up with them and often check their site for updates. So semi-recently I was really excited to see that they launched two sta­tionery lines, Deskline and Cardline. All of the paper goods, which include greet­ing cards, prints and other sta­tionery items, are designed and let­ter­pressed metic­u­lously. But I was par­tic­u­larly drawn to the illus­tra­tive, lay­ered feel of the pieces designed by Kelly and Kindra, a style and approach rarely seen in let­ter­pressed sta­tionery. I had been eye­ing them online for months, but I finally got a chance to see them in per­son when I vis­ited Little Otsu in San Francisco.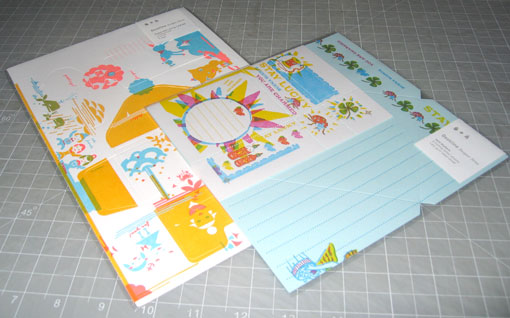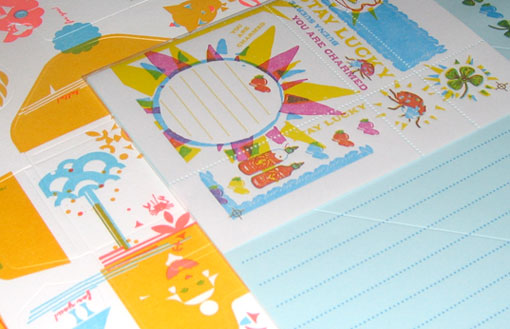 It was a tough deci­sion, but I picked up two pieces: the Polkaville Party Punch-Out Calling Card Set and the Charmed Self Mailers (see pho­tos above and below). Their web­site is under con­struc­tion but in the mean­time you can check Kelly and Kindra out at their respec­tive sites.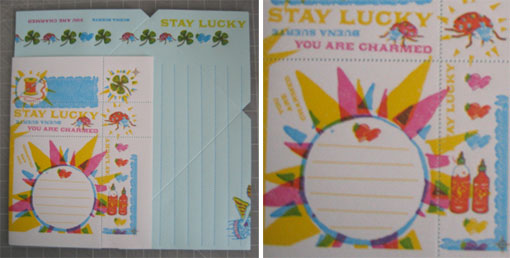 All of the Cardline and Deskline prod­ucts are avail­able at Studio on Fire's online store as well as shops across the coun­try. Make sure to stop by and take a look through all of their design work as well — lots of let­ter­press eye candy there.