Several years ago while at Syracuse, I was lucky enough to work part time at Boxcar Press. If you know let­ter­press at all, you know Boxcar. In addi­tion to let­ter­press print­ing and pho­topoly­mer plate mak­ing, they pro­duce the well-known Boxcar base sys­tem and sell other sup­plies. At the time, own­ers Harold and Debbie were also in the early years of Bella Figura, their first line of wed­ding invi­ta­tions and baby announce­ments. Working there was such a great expe­ri­ence — it's where I first fell in love with let­ter­press, and learned all about the process behind the artform.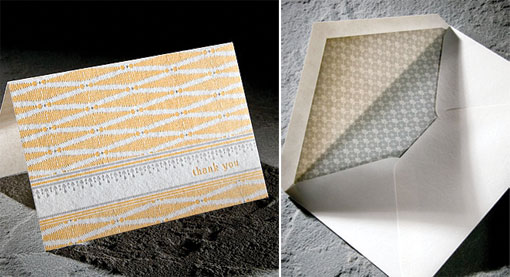 Every once in awhile I check out the Bella Figura site to see what new designs they have to offer, but it had been awhile since I spent more than a few min­utes there. So I was extremely impressed when I took a longer look today and saw how much they've grown.

Their lat­est ven­ture, Smock, is an eco-friendly line of invi­ta­tions, greet­ing cards and other paper goods. Printed on lux­ury bam­boo paper, the line is avail­able on the site as well as in stores nation­wide. And just like all their other prod­ucts, Smock is beau­ti­fully designed and expertly let­ter­pressed as seen in the full line of social sta­tionery here. And make sure to take a look at the wed­ding invi­ta­tion options, where you can mix and match pat­terns, col­ors and type­faces to cre­ate a look that's all your own.