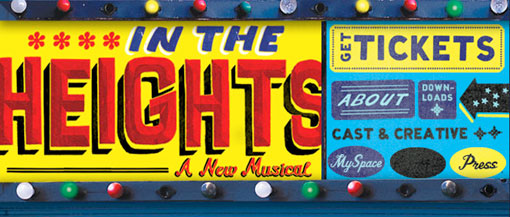 This is not entirely design-related but this past week­end I got to see the Broadway show, "In the Heights", which just won four Tony Awards (out of the 13 they were nom­i­nated for). All I have to say is: Go see it.
Seriously though, it was amaz­ing. I've been to quite a few Broadway shows (Rent a mil­lion times, Spamalot, Legally Blonde, Movin' Out, The Producers, Spring Awakening etc. etc.), but I had never seen one with so much infec­tious energy. The chore­og­ra­phy, singing, the set design and espe­cially the story behind the show was so incred­i­ble — I can't wait to see it again.
RED NYC is the design firm respon­si­ble for the pro­gram and site design. They did a really great job cap­tur­ing the warm, ener­getic, Latin-influenced feel of the show and its story. Check out their site for more great work. And go see the show. Immediately. I mean it.