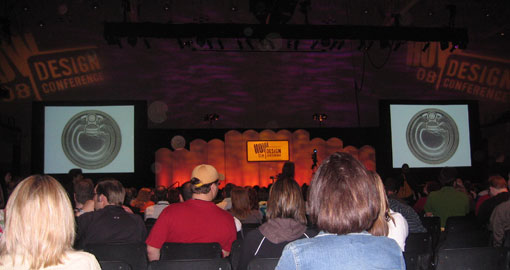 This past Sunday I headed into the Hynes for the open­ing Keynote address, given by Jeremy Gutsche of Trend Hunter Magazine, enti­tled "Creating a Culture of Innovation". Gutsche was an excel­lent speaker and his talk and made some great points about how to inno­vate in today's cul­ture of viral mar­ket­ing, where con­sumers cre­ate the con­tent. You can see a video that includes part of the pre­sen­ta­tion we saw below, and you can also see sev­eral other videos and pre­sen­ta­tions here (scroll down) or here.
Clicking through TrendHunter​.com pro­vides tons of great inspi­ra­tion. I will say though, the home­page is extremely busy which makes it hard to nav­i­gate. One thing that helps is to fil­ter the trends by cat­e­gory, such as Art & Design.
Update: I just noticed they launched My Trend Hunter, which allows you to change the lay­out of the page accord­ing to your pref­er­ences. If you look above where the cat­e­gories are listed and to the right, there are sev­eral thumb­nails of dif­fer­ent lay­outs. Definitely helps to sort through the clutter.