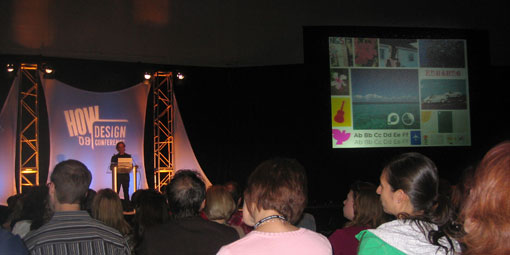 Monday morning's ses­sion pre­sented by Joe Duffy was one I was really look­ing for­ward to. I love the work that comes out of Duffy and Partners and I was really excited to get some insight into their process. His pre­sen­ta­tion did not dis­ap­point. He cov­ered the basics in terms of how his com­pany oper­ates and how it's changed over time. Duffy says he's rein­vented the com­pany FIVE times since its estab­lish­ment 25 years ago. However, the most inter­est­ing part of the ses­sion was when he pre­sented sev­eral case stud­ies of their work. I love see­ing how other design­ers approach solv­ing a prob­lem, espe­cially ones I really respect and admire.
Unfortunately my pic­tures didn't come out so great, but hope­fully you can get the idea.
The first case study pre­sented was the rebrand­ing of the Bahamas (which I love). He explained the whole process behind the cre­ation of the brand lan­guage (includ­ing the fact that sev­eral of them got to visit all of the Bahamian islands for research pur­poses), which seems to be pretty stan­dard through­out all of their projects. The staff is con­stantly col­lect­ing imagery that inspires them, whether its pho­tos they take or other design­ers' work, which is some­thing I think most design­ers can relate to — I know I can per­son­ally. So typ­i­cally when they start a project with a client they go to their image library and start pulling imagery that they feel rep­re­sents the direc­tion the brand should take. They then get the client involved, and invite them to look through all of the imagery with the design­ers to start nar­row­ing things down. The design­ers and client then go through a process where they're pick­ing and choos­ing until they both agree on a select group that cap­tures the essence of the brand. This client involve­ment seems to be the key to the process, because as long as the client feels they are a part of the cre­ation from the begin­ning, they'll be much less likely to kill the design as you move forward.
Once they have this pre­lim­i­nary col­lage, the design­ers at Duffy trans­late it into a visual brief, which I think is such a great idea. The design­ers can then work off of a col­lage of imagery to come up with designs, rather than a tra­di­tional writ­ten brief. In col­lege we used to use both a writ­ten and visual brief, which we referred to as a mood board, but I haven't put them into prac­tice too much pro­fes­sion­ally. This approach, how­ever, makes so much sense, and I can't wait to try some­thing sim­i­lar in my next project.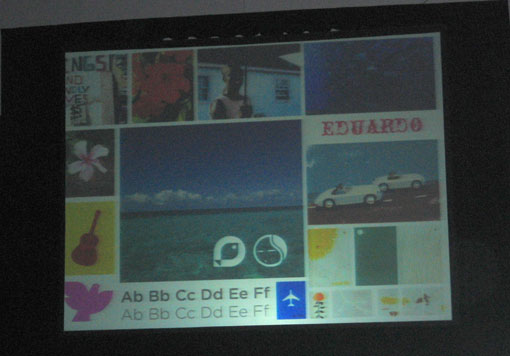 One thing I loved about the pre­sen­ta­tion was see­ing the before and afters of each project. He always started with the visual brief/collage and jux­ta­posed that with the final project. It was really cool see­ing the evo­lu­tion of where they started to where they ended up. One I par­tic­u­larly enjoyed was some of the pack­ag­ing for Thymes, which is always unbe­liev­ably gor­geous. Below you can see the visual brief and the result­ing pack­ag­ing for one set of designs.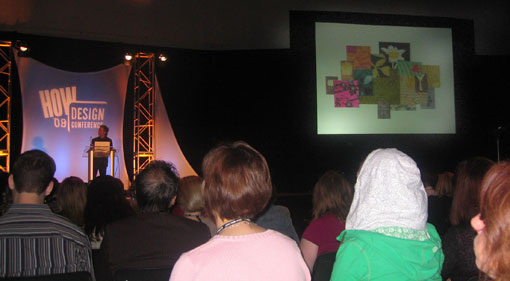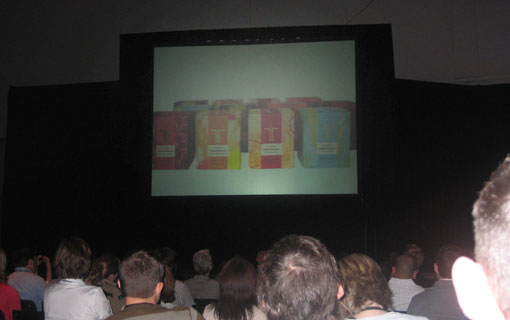 Here is another exam­ple of their redesign for the Susan G. Komen Breast Cancer Foundation.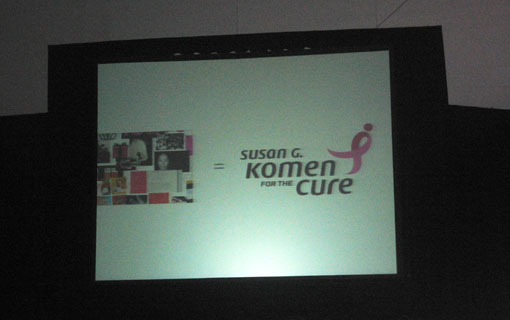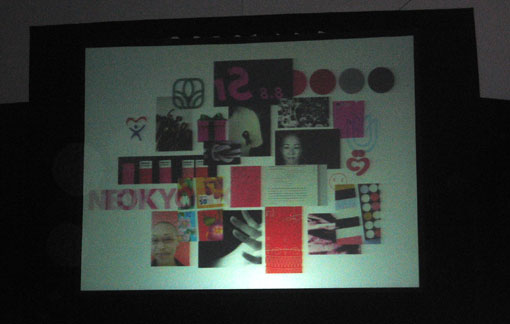 Overall it was an excel­lent pre­sen­ta­tion, prob­a­bly one of my favorites from the con­fer­ence. Find out more about Duffy and Partners on their web­site, as well as on their blog, Duffy POV.